Brien Lee began producing slide shows and film during his college years, first for his family, and then at Marquette University's College of Journalism.
After graduating, he and Ric Sorgel started Sorgel-Lee, Inc. (also known as Sorgel-Lee-Riordan), a slide and multimedia production company known for its multiple-projector slide shows, meeting productions, arts marketing projects, and computer graphics. The company was unique in that it was based on a concept-to-completion philosophy, centered on scriptwriting, audio production, photography, and visual editing skills, rather than simply selling the technology. This helped distinguish it from a host of other local and national companies.
By the beginning of the 1980s, the company had been selected by companies like Borden, Kirby Vacuum Cleaner, Harley-Davidson, and AVL as their producer of marketing and meeting materials. The company was featured in national magazines and was considered an industry leader.
In the 1980s, Brien split off a portion of the company to specialize in video, then an emerging production method. The new company, Brien Lee & Company, produced meetings and media for AT&T, Public Service Electric & Gas of New Jersey, Kohler, The Milwaukee Journal, RR Donnelley, CUNA Mutual, Wisconsin Electric, Mercury Marine, Briggs & Stratton, and others. The company was selected to produce the video for the opening of the new Bradley Center for the Milwaukee Bucks. They led the industry in the adoption of real-time motion graphics and multiple screen panoramic projection for meetings.
During this time, Brien was named Advertising Club President of the Year in Washington DC and was also a featured columnist in AV / Video Magazine on the emerging use of computers for meetings, video production, and business tasks.
After selling his business to TriMarq, Brien spent the two years of his "non-compete" clause evangelizing the use of computer and digital media for video editing and presentations on behalf of Chicago / Milwaukee systems house Video Images, as well as presentation system manufacturer Television Labs (TVL) Inc.
He then joined Visuals Plus, Inc., a former competitor, where he led that company into meeting production, acquiring such accounts as Walgreens, Underwriters Labs, and True Value.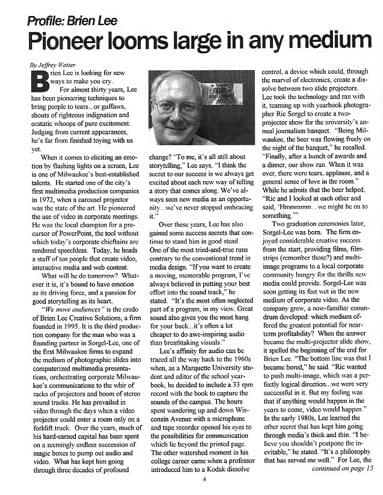 After the owner of Visuals Plus closed the company, Brien returned to self-employment as founder of Brien Lee Creative Solutions, a broad-based multimedia company specializing in video, PowerPoint, web and e-learning projects, meeting media, and other computer-based communications.The company adopted non-linear editing techniques and was among the first to standardize on DVCam and HDV in the Midwest.
The company's work for Walgreens, Johnson Controls, The American Cancer Society and others won numerous local and national awards.
Some years ago, Brien moved to New Jersey, and his latest iteration focused its efforts on its inherent strengths–audiovisual and video storytelling for the web, DVD, projection, and other digital media. And the company's operations were streamlined, making it more efficient and flexible.
The educational opportunities now offered are based on the past 45 years of experience, plus an ongoing ability to keep up with technological and communications trends, mixing guru-style basics along with shortcuts and techniques directed at the sophisticated audiences of today.